____________________________________________________________________________



ESSENTIAL ADDITIONAL MODELS, MATERIALS, AND LINKS
___________________________________________________________________________

Backlot Spaceport - Episode 2 - "Icarus / LIberty-1" - A fan made film showing some of the history of this iconic spacecraft. My site is mentioned as a source for the material of the episode. Thanks, guys!
All in one paper Icarus site - A website that is a nice collection of the various Jan Rukr "Icarus" models, some of which have been resized and tweaked.
YouTube "Icarus" Resin Model Buildup - Four parts detailing how to build and paint the Wilco Models' resin Icarus model by Model Kit Builder. Find the link here.
The Wonderful World of Longmire- Longmire has a truly inspired parody of the original POTA movie! Check out his site here. Part of Mark Longmire's parody was the inspiration for this site's "ASTRONAUT MANUAL".
CULTTVMAN'S SCI-FI MODELING SITE- Steve Iverson has an excellent website dedicated to modeling all manner of science fiction and vintage cult models, from Aurora to full scratch builds. Steve has also produced an excellent book for modelers with tips and illustrations on how to model some of the most famous science fiction kits ever produced.
George's Vintage Space and Sci-Fi Toys- Has an excellent article on the resin kit of the Icarus as well as some other Icarus related links as well as plenty of information on the great space toys of the '60's and '70's during the hey-day of the Space Race. Worth looking at if just out of nostalgia for a different time, when it was still OK to be a kid and to put your dreams out among the stars...
Skyhook Models- producers of excellent sci-fi models. They produce a superior Icarus model and diorama.
Monsters In Motion- producers and retailers of sci-fi models. They have the largest Icarus model available at 1/35 scale.
Phil Broad's "Icarus" site- Phil's site deals with aspects of the "ICARUS" that I don't have access to, like tracking down the studio model, actually getting to crawl around on the studio design set and talking with people at the studio about the ship while all the information was still fresh on everyone's mind. A lot of information had been lost in the mists of time but Phil and Larry did a lot to bring back this information.
Extreme Worlds- A guy calling himself "Boba_Fett_42" has done some interesting computer graphics of 'extreme worlds', I find it curious that all of the spacecraft that he has modeled in his images looks very similar to the "Icarus".
The NIT-PICKER'S GUIDE TO PLANET OF THE APES- Funny! Did you see the red bus? I didn't! Other movies of the series are included there (you have to search for them) and the one question on BTPOTA was "What year is it?!" I laughed at that.
DRONE- the English magazine of speculative modeling. Check out their site and give them a subscription if you can. The world is short on quality sci-fi modeling magazines and DRONE works hard to fill the void with the good stuff! DRONE is the first magazine to bring you in-depth coverage of the Artifex Creations "ICARUS" model produced by Andrew Wright and Dave Ballard.
ARTIFEX CREATIONS- Andrew Wright is the master modeler who created Dave Ballard's "Icarus" model. Please check out his site for other professional grade models that he has constructed.
JAN RUKR'S PAPER MODELS- Jan is an artist without equal when it comes to paper models. His site not only features incredible paper models from the movies "ALIEN", "ALIENS", and "ALIEN3", but he also has an astounding "Icarus" paper model (detailed under the "Modeling" section) that you can download. Give his site a visit and drop him a line with some praise in it. He's earned his glory.


OTHER POTA / NON-ICARUS LINKS


RECONS- Research Consortium on Nearby Stars- The purpose of RECONS is to understand the nature of the Sun's nearest stellar neighbors, both individually and as a population. Our goals are to discover ``missing'' members of the sample of stars within 10 parsecs (32.6 light years), and to characterize all stars within that distance limit. New members are found via astrometric, photometric, and spectroscopic techniques, or through companionship studies at small and large separations. Characterization includes photometry and spectroscopy at both optical and infrared wavelengths, as well as determinations of the luminosity function, mass function, and multiplicity fraction of the nearby stars. Todd Henry was gracious enough to allow me to use his local star chart for my Alpha Centauri explanation. Please visit his site, he and his team have put together a lot of information that will be of interest to you all.
Icarus Rising- The story of the ill-fated space shuttle Challenger and her crew in words and pictures. Very nicely done.

Liberating the Liberty Bell 7- America's first sunken space capsule, which would be echoed years later on the screen with POTA and the "Icarus".
Restoring the Liberty Bell 7- After being submerged in over 3 miles of the ocean depths for 38 years, Liberty Bell 7 was found again and raised to the surface. One company is pain stakingly restoring America's first sunken capsule. This is the story... Reminds me of Phil Broad's personal journey to find the 'real' studio miniatures and sets of the Icarus.
The Gus Grissom Tribute- A well deserved ode to a dead astronaut and hero. Gus' Mercury capsule, the "Liberty Bell 7", was recently found and salvaged, 38 years after his historic flight and the tragedy that almost cost him his life! Escaping from a malfunction which rapidly filled his capsule with water, Gus went on to headline the Apollo testing program until a freak flash fire during a test ended his life as well as two other American astronauts who never made it out of the capsule alive. Another astronaut who died in his capsule. Strange, since he, like Stewart, almost went down with the ship into a watery grave. R.I.P.

Questions or comments?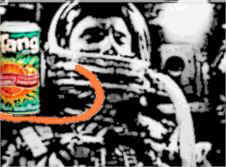 "Mmmmm. That's just GOOD stuff, Mission Control!"

EMAIL ANSANAUT