A completely irreverent tongue-in-cheek guide to basic astronaut survival
as represented in the various "Planet Of The Apes" movies
____________________________________________________________________________

"If this is the best they have, we'll be ruling this planet in six months."
- COLONEL GEORGE TAYLOR, USAF
____________________________________________________________________________

Question: Do you lay low, staying alert with pistol in hand as you cautiously explore your surroundings, making sure that there is no threat to your life?

Answer: Hell, no! You make a mad dash directly to the pond and go swimmin.' Says so in the ASTRONAUT HANDBOOK..." -MARK LONGMIRE*

____________________________________________________________________________

SECTION ALPHA- ANSA FLIGHT PROCEDURES
Smoking cigars and cigarettes is perfectly okay in the closed environment of a limited life support spacecraft. The oxygen and CO2 scrubbers were built to handle the extra load. In fact, each ANSA flight suit is equipped with a spiffy wide, high capacity left breast zipper pocket you should use to store your smokes in when you go into suspended animation. The ash tray is a design feature that will be implemented in the "ICARUS" II. Please refrain from using the medical supply drawer as an impromptu ashtray.


Please don't use the ship's log to record your own personal memoirs. There is only so much magnetic recording tape that can be carried onboard, and we would rather you use it to record interesting mission data instead. Impromptu crew karaoke sessions are also frowned upon by Mission Control.


When you finish using a syringe to inject your long-sleep drug, be sure to return the used, contaminated needle and syringe promptly to the medical supply drawer instead of disposing of it properly in the bio-hazard sharps container. This way, another astronaut can accidentally pick up the used needle, reuse it, and possibly get a nasty disease.


Will the last astronaut into suspended animation please turn out the ship lights before turning in?


The Ship / Earth Time Chronometer (tm) may or may not take into account leap years and daylight savings time. Plan accordingly.


Remember to set the alarm on your ship's chronometer before going into suspended animation otherwise you might oversleep several thousand years.


Be sure to set the switch labeled "[WAKE CREW IN CASE OF EMERGENCY ]" to the "[HELL YES!]" position before turning in for a bit of suspended animation. Otherwise, your computer won't bother to automatically bring you out of suspended animation for such low priority situations like the agonizingly slow asphyxiation and death of one of the crew while they sleep in their damaged suspended animation chamber, or the tiny little minor detail of an emergency crash landing on a strange new world you were not programmed to land on in the first place. Maybe if you had been awake, you could have prevented both of these incidents.


Yeah. I found it. Here's the problem, folks...
Your basic ESO (Equipment Superior to Operator) Error.
Before going into suspended animation, please do not press on or lean up against the glass of the suspended animation chambers of other astronauts. This could cause the glass to weaken, eventually break and the astronaut to perish during their long nap. You can look, but please, please don't touch!
After a long period of suspended animation, you will be groggy and disoriented. Please try not to look at the other crew members in odd or funny ways. Refrain from making eye contact or exaggerated facial expressions until the disorientation passes.


After a long period of suspended animation, you will be groggy and disoriented. If you are assigned to the top suspended animation chamber, please refrain from hopping down out of your suspended animation chamber until all of your equilibrium and senses return to you. If you do hop down and you subsequently lose your balance, try not to fall backwards and land with all of your weight on the just awakening astronaut in the lower suspended animation chamber. This is considered rude.


After a long period of suspended animation, you may discover that hair has grown in places where you previously did not have it. This might not only be disconcerting, it might be downright embarrassing.


After a long period of suspended animation, you may discover that you are not exactly a morning person. No problem! The ANSA Chief Flight Surgeon recommends that you wake up from your several thousand year long nap with the screaming orange taste of TANG! It's EXTREME!...TANG! has an extreme orange taste, and an extreme orange color. Too bad you don't have any aboard your spacecraft...


After a long period of suspended animation, once your senses and equilibrium have returned to you, take a good look around the spacecraft and make sure that everything is in working order. Please pay close attention to the color of the interior bulkhead situation indicator lights. If there is lots of steam outside the windows of the spacecraft, if the spacecraft is bobbing up and down, and if the interior lights are flashing bright red, then that is a good indication that something BAD has happened. What? You didn't set the computer to WAKE CREW IN CASE OF EMERGENCY? Uh-oh. Well, if you didn't, and you wake up and find that you are in deep doo-doo, please proceed to the next part of the manual entitled:

SECTION BETA- ANSA EMERGENCY CRASH LANDING AND VEHICLE ESCAPE PROCEDURES

Remember: You are not programmed to land in water. But just in case you ever did, the engineers packed you a really spiffy inflatable life raft which is located conveniently just under the control panel dash, right near the escape hatch.


All ANSA spacecraft can take incredible amounts of physical punishment, flying at near the speed of light, survive for thousands of years cast adrift in the coldest depths of space or traveling through strange time warps and rifts in space. However, the main hatch and bulkhead seals are sealed with a water soluble material. Do not immerse spacecraft in water!


In the event of crash landing in water, make sure that even if your vehicle or spacecraft is not programmed to land in water, that it ends up floating in such a way that you can easily make your escape. Mighty convenient that the ANSA spacecraft float tail down, nose up, and that there are all of those convenient hand holds to allow you to climb up the escape hatch... Coincidence or design? You be the judge. No, the ANSA spacecraft was not made by a bunch of Weebles(tm). Weebles wobble but they don't fall down(tm).


In the event of an emergency crash landing and if your ship is starting to rapidly fill up with water and sink, be sure to waste precious time testing the outside air before you blow the escape hatch. It's not like you have any real choice in blowing the hatch if the ship is rapidly filling up with water, now is there? What were these people going to do if the atmosphere tested back as 'bad'? Hold their breath?


If the "ICARUS" is designed to come back to Earth, why does it have a "air tester" near the escape hatch? Is the smog going to be that bad in California when they get back?


If you find yourself somehow propelled 2000 years into the future, be sure to use your last bit of spacecraft battery and emergency power trying to send a radio signal that you have landed. We're confident that if there is still a United States or ANSA Mission Control 2000 years in the future, that they will remember exactly who you are and, at long last, will breathe a collective sigh of relief and be glad to know that you are all right.


All ANSA spacecraft are equipped with an emergency escape system which will explosively blow out not only the emergency escape hatch, but also several panels and even the windows out of your spacecraft. This should help it sink much quicker if it ever should land in water. Remember the fact that a explosive charge (designed to remove a three square foot plug of steel and alloy from your spacecraft...) going off inside a confined space such as the interior of a spacecraft wallowing in water isn't going to do wonders to your eardrums either...


Please watch your head when exiting the spacecraft. The atmosphere tester is located directly in the path of emergency exit, right in front of the hatch, and could cause a nasty laceration on your head or scalp if you don't duck on your way out.


All ANSA spacecraft designed to carry a crew of four are equipped with an emergency life raft that will barely accommodate three astronauts. (Good thing Stewart died in her sleep, it would have been a tight fit with her and three guys on one little raft...).


Once the emergency hatch is blown, the atmosphere tester will automatically retract.


The paddles for the life raft will be only slight bigger than the average ping-pong ball paddle but they will be constructed of space age aluminum and look absolutely spiffy. And where exactly did the paddles come from? It is a good bet that the paddles weren't rolled up in the raft before it was inflated...


Please don't try to help other astronauts into the life raft by grabbing hold of their ass and hauling them in. This is considered somewhat rude, and may invite more in return than a gentle rebuke from the other astronaut.
Your seat cushion and the form fitting black mat in your hibernation chamber can be used as an emergency flotation device. Remember this in case you ever touch down in water, which you aren't programmed to do.


All ANSA spacecraft are not designed to float. Just some of them. Remember this in case you ever touch down in water, which you aren't programmed to do. Yours might be the kind of spacecraft that sinks.


We have not done extensive Y2K (or Y3K or Y4K for that matter) compliance testing yet on the spacecraft flight computers, so if you should enter a time-warp or something strange like that and end up thrown 2000 years into the far future, we make no guarantees that your computer will be working properly when you get there. We hope you will be back in just a few months, Dr. Hasslein assures us that nothing can go wrong... We believe him. Don't you?


While it may be tradition for the captain to go down with his ship, colonels are exempt from this military tradition. George Taylor thanks God that he made it to the rank of Colonel before launch.


Will the last astronaut out please hit the [RESET] button on the Earth / Ship Time Chronometer (see graphic above). This sets the date to read correctly 3955 AD, which is 23 years earlier than the current date. Please do this so that the astronauts and people in the sequels to the movie will at least be able to operate on one consistent time frame of reference. Thank you for your cooperation in this matter.*
SECTION CHARLIE- ANSA EVA (EXTRA-VEHICULAR ACTIVITY), EXPEDITION, AND SURVIVAL TIPS
When your ship crashes, be sure to wander as far away from the crash site as possible and don't leave a trail or any clues to follow you or locate you by. This will greatly work to befuddle any follow-up rescue missions in finding you and rescuing you in the shortest amount of time possible.


All ANSA emergency field survival packs are designed to float. The extra Styrofoam used in their construction may allow a lot less space to be available for storage on the inside, but the packs do float and float very well! Remember this in case you ever touch down in water, which you aren't programmed to do.


Feel free to name any newly discovered mineral, animal, or plant however you see fit. After all, you discovered it, you get to name it. No matter how stupid the name is. Taylorium, anyone?


ANSA has determined that wearing a bright red shirt while exploring a new planet can lead to a shortened life expectancy. Therefore all of the red T-shirts have been removed from your survival pack. Instead, we have replaced it with a gray, one size fits all "Property of ANSA Athletic Dept." shirt.


Each member of the crew will be given a teeny-tiny replica of an American flag with a tiny plastic flag pole. You should plant this as soon as you land anywhere. It will proudly claim that you have arrived and claimed this new land in the name of the United States of America. Be sure not to step on it when you are getting up off of your knees from planting it.


When stranded in the desert, with supplies running low, it is advisable to travel only during the day, which is the hottest time possible. Rest frequently in the sun, avoid shade or traveling at night, which is the coolest possible time to travel.


If you should encounter a strange artificial construct such as a couple of sticks tied together with straw to resemble a 'X' or a upside down scarecrow, just ignore it. This is probably just a naturally occurring form of plant life and shouldn't be taken as a warning sign not to go there or as a sign that any intelligent life exists elsewhere on the planet.


Avoid rocks that have been perched precariously in place seemingly for thousands of years. If you walk by these, your footsteps will provide enough vibration to set these rocks loose from their place. The rocks will then roll towards you with enough force to squash you to strawberry jelly. It is just best to avoid any precarious rock formations to begin with, especially ones that are mysteriously perched on the high side of a sand dune. If you find any and the rocks start rolling toward you, run like hell.


The quickest way to get down a steep sand dune is to just uncontrollably roll down it.


Be sure to carry your pistol unloaded and stored with the safety on, secured in your survival pack. This will allow you fast access to it should you encounter anything dangerous and prevent any accidental gun related injuries to the exploration party.


Be sure to take off your flight suit, drop your survival gear, strip naked, and jump in the first big body of water that you come to. Don't test the water first to see if it is OK or look to see if there is anything swimming in it that might think of you as little more than a light snack.


All ANSA emergency survival packs include food and water for three days, a pistol with twenty-four rounds of ammo, two medical kits, one camera, and one TX9 (see below). Because the packs are so nifty looking, we just didn't have any extra room to put a compass, a flashlight, matches, signal mirror, fishing line and hook, or an emergency radio / transponder beacon in there with all of that stuff. We also didn't have room for suntan lotion, a multi-purpose utility knife, sunglasses, or any orange flavored TANG(tm). You can use the pockets on your suit to bring that stuff from home if you want to.
We're not really sure *what* TX-9 is, but we got a good deal on it and therefore we had plenty of it to go around so we made sure to put some of it in everyone's survival pack. Use it at your discretion. Not responsible for any irritation, discomfort, or chaffing that may occur. Not to be taken orally or rectally. Discontinue use if rash occurs. Do not use for more than 7 days at a time. Consult a doctor first if you are pregnant or nursing. Other than that, you're on your own...


TX9 is apparently *not* a substitute for TANG(tm) and shouldn't be used as such.
The test monkeys in the ANSA space program get all the delicious, easy to mix, refreshing and nutritious imitation orange flavored TANG(tm) that THEY want.

YOU, on the other hand, get TX9 which, sadly, is just not the same as that extremely delicious, extremely easy to mix, extremely refreshing and extremely nutritious imitation orange flavored TANG(tm).

No the space monkey won't trade you his TANG for your TX9. Don't even try. He may be a dumb space monkey, but he's not stupid.
The pockets on your flight suit can be used to store the handy, condensed, personal extreme survival guide "To Serve Man...".

SECTION DELTA- ON NEW RELATIONS WITH THE NATIVES OF THE STRANGE PLANET
If you find primitive humans where you land, don't worry about how they got there, just worry about how you'll rule the planet in six months and have a huge harem of prime choice primitive young and very nubile slave babes who only grunt and snarl with pleasure at your every whim. Yeah, baby! Yeah!


If you should find any 'talking apes', especially talking apes with automatic rifles, it is best to run as fast as you can in the opposite direction instead of standing there trying to figure out just what the hell is going on. If everyone else around you is running like their asses are on fire and their heads are catching, ANSA recommends that you do the same. Don't worry about how these apes have fully saddled and bridled horses on an alien planet, or why the apes are speaking perfect English... Evolution is a funny thing, you know? Don't stop to think about it too long or your head might explode. And if you do find something strange, like a ape who speaks perfect English, is armed with a automatic rifle, and is riding a horse with full saddle and bridle gear, it might just be a damn good idea to get a automatic rifle of your own. As soon as possible. Especially if you somehow lost the service pistol and ammunition that ANSA provided just for a situation like this... Besides, what are the odds that there will be any ammunition around that will still work or fit in your 2000 year old automatic pistol. Go native. Quick.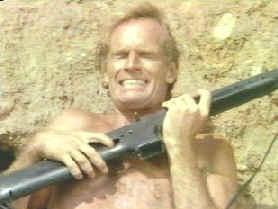 Maybe if you had some delicious, easy to mix, refreshing and nutritious imitation orange flavored TANG(tm), you might get along better with those gun toting apes and gorillas. Primates love TANG(tm), ANSA scientific research proves this!
"Get your stinking paws off of my TANG(tm), you damn, dirty ape!"

If you should get captured by strange creatures (i.e. English speaking apes with automatic rifles), then in order to blend in with the other captured humans, it is a good idea to hide anything that sets you apart from the other savages, anything like your bright shiny military dogtags. Where you hide the dog tags is up to you, but we would suggest you stick them where the sun don't shine, and walk very slowly ...
Always be sure to name each female savage that you find an easy to pronounce name. Teach her to say her name first, and then your name. Give her your military dog tags to wear. That way, if you two ever become separated, ANSA will be unable to find you or identify your body. The savage female may find that your dog tags have some primitive quasi-religious power as a holy symbol and may find that shaking them in the air above her wards off evil spirits.
________________________________________________________________________________________________________________

* With a tip of the hat to the humor of Mark Longmire, who unknowingly, in one brilliant instant of comedic humor, provided the impetus and the inspiration for this entire page. With that one comment on his parody (listed above at top), the infamous "ASTRONAUT MANUAL" has been brought to life. Thanks, Mark! Great minds do think alike...
______________________________________________________________________________
______________________________________________________________________________
Mark Longmire and Christopher Shields
Well, on December 27, 2001 I (Christopher "ANSANAUT" Shields) met Mark Longmire for the first time in actual reality, this after more than half a year of phone, mail, email correspondence and a couple of business transactions (I bought several plastic models from him for my kitbashing projects).
Exiting a previously uncharted Hasslein Curve at high speed, Cindy and I found ourselves projected an hour ahead into another time zone as we were on vacation in TN. Our ANSA spacecraft passed through Knoxville, Mark's hometown and often victim of much of his dark humor. I guess it was for the best that the first person that I meet on the Internet and then decide to meet in real life would be a comedian like myself. This picture is taken outside of Calhoun's on the river, in Knoxville, where Cindy, Mark, and I had dinner.
This is the photo that almost wasn't. First my wife's camera refused to take our picture due to low lighting. Then when proper lighting was found, the camera apparently went ape and refused to do anything but rewind the entire roll of film after snapping just two pictures. Fortunately Mark brought his digital camera along that evening, but either his Karma or mine was overdrawn that evening as even the batteries in his camera were almost out. Cindy, my wife, did manage to get two quick shots before Mark's camera finally gave up the ghost. It was definitely not a night for photography, that much was sure.

As for why the Federal government didn't directly intervene on this monumental epoch of human history I'll never know, however one thing is for sure, together Mark and I will rule the world. In all seriousness, hopefully, Mark and I will work on other joint humor projects in the future; we've been batting a few ideas around mentally for several months but nothing has really caught fire and run. Yet. But there is always time, objective time that is. Humor, I've found, travels at its own special speed. It has its own way of arriving when it is needed most.
There is a lot of talent between the both of us, and it would be a shame to waste the potential synergy that is present. When great minds meet, each gifted with a deep and dark sense of humor, dire things are in store for the whole human race. Nothing will be sacred and everyone will be scared...
__________________________________

Questions or comments?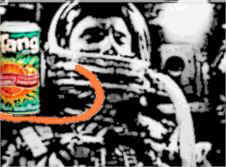 "Yum. That's just good stuff, Mission Control. Over and out."
EMAIL ANSANAUT