CRITICAL MASS
____________________________________________
Your source for must-have collectibles that are Terminator related.
TOYS AND FIGURES
PALISADES TOYS announces a new line of 4" TERMINATOR figures! Follow the link for more info!
_____________________________________
MONSTERS IN MOTION has a new 1:35 scale (54mm) resin T800 Endoskeleton model complete with two plasma rifles, perfect for use with other 1:35 scale models like tanks and modern military forces. This may or may not be a recast of one of the Endos that came with the very hard to get Argonauts HK Tank kit several years ago. Price is just $9.99 each plus shipping and fondling.
_____________________________________
NECA (known for their 18" tall Captain Jack Sparrow figure from Pirates of the Caribbean) are about to give us a 18" tall T800 Endoskeleton complete with light up eyes and a plasma rifle. The price should be about $40.00 USD so get one while you can. Coming soon!
_____________________________________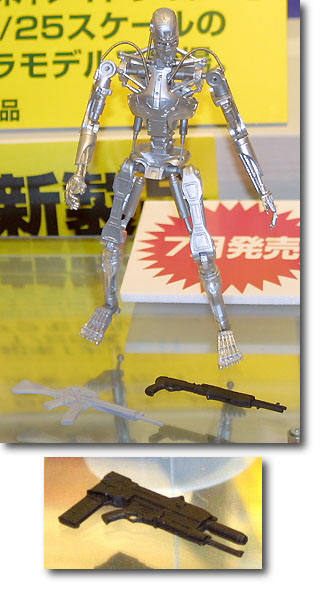 AOSHIMA 1/12 SCALE T800 ENDOSKELETON WITH SMALL ARMS- Here's a fantastic imported addition to your T2 collection. It comes fully assembled and painted like the CG version of the Endoskeleton. The joints are articulated and it comes with three different style guns (phased plasma endo battle rifle, a M16A2, and a SPAS-12 shotgun). It also comes in a beautifully packaged box. While it may not be electronic, it appears to be somewhat smaller than the TOY ISLAND full size figure, yet more detailed and it comes with three weapons which are to scale. Retails for $28.00 USD plus shipping. Find out all the information here at HobbyLinkJapan. Available in metal and blue finish, same price.
_____________________________________
AOSHIMA 1/6 SCALE T800 ENDOSKELETON WITH PLASMA RIFLE- This is the BIG one. 1/6 scale and it's more than 70% made out of diecast metal! Die-cast metal TERMINATOR ENDOSKELETON. 30cm high, with a metal body and even working actuators on the joints, this will be a prize sought-after by all hard-core Terminator fans. And at 16,800 yen each, it's going to be a great way to pad your bottom line, too! Will come in two versions: Normal color with plasma rifle, and weathered color with AR-18. For those wishing a rough translation of Yen to US Dollars, be prepared to fork out about $175.00 for this unit! Find out all the information here at HobbyLinkJapan.
_____________________________________
T800 Terminator Endoskeleton PVC Model Kit Price: Unknown manufacturer but imported. $39.95 US or ten bux more at MIM. -Built by machines for ONE reason-Destroy humanity! Straight from the future and the popular hit movie "The Terminator" comes this highly detailed Robot Model Kit of the T800 Endoskeleton known as ... The Terminator. Standing 15" tall, this kit is loaded with detail. With over 45 parts made of PVC plastic, white metal and spring coils, this kit is geared toward the more experienced modeler, 12 years old and up. Try http://www.robotoys.com or http://www.monstersinmotion.com for this model. Not sure if it is a remake of the old Horizon vinyl Endoskeleton model or not... I bet it would fit perfect with the Toy Island toy's Endo battle rifle.
_____________________________________
T3: THE END BATTLE boxed set- Now this is interesting, if a bit pricey. The base is, IMHO, dumb and extraneous. The real star of this boxed set is, of course, the critically battle damaged T850 figure. The TX comes with additional hands / weapons, but otherwise appears to be identical to the carded issue of the figure. If you missed the first issue of the TX Endoskeleton, you might think about getting this set. Those of you who have the single packaged TX might think twice about this set, as it costs upwards of $30.00 US and that is a lot to pay for a single figure (the T850). However, I did find this set recently at a Game Stop / Babbages for $15 and promptly walked out the door with it (after paying for it, mind you).
Otherwise, the detail is very good but the choice of a diorama is somewhat strange. I recommend it, but only if you have $30.00 US to spare. My own plans are to buy the set, remove both figures, and mount them individually to new bases. The T850 will be issued some form of weapon, possibly a recast copy of the plasma rifle that comes with the Tsukuda model kit (see below).
_____________________________________
McFARLANE TOYS 12" T3: T850 "TALKING" TERMINATOR: This figure is very detailed but is meant for display only. The points of articulation are limited and even though the box (and this production image) show that it is the likeness of Arnold, the actual figure comes with a pair of sunglasses glued to the head. Removing them will invariably destroy the sunglasses and perhaps damage the figure. There are currently TWO versions of this figure, the one with the sunglasses and the one without. Choose your model. The figure comes with a very well sculpted base, attaches via two pegs (ala old Kenner Star Wars figure style) and seems to be in the stance of just about to fall over (or leaning back on his heels). The detail is very, very good though the weapon assortment leaves much to be desired. The machine pistol, if you want to call it that, looks a bit on the small side size / ratio wise. The shotgun is made out of a soft rubber, and most of you will notice that when you get your figure, the shotgun has been taped to the side of the pack, while still in the Terminator's hands. This produces a very ugly 'bow' shape to the shotgun, which can be corrected by laying the shotgun flat on a smooth surface and leaving it under a heavy, flat object overnight.
The base is electronic and features a simple speaker / sound chip powered by two AA sized batteries. There are a total of four phrases said, though the quality of the speaker lessens the overall enjoyment.
Since the figure is a twelve inch model, most of the classic GI Joe weapons will be in size to this figure. I simply discarded the machine pistol and switched the shotgun to the right hand, recreating the first scene where John Connor sees the T850 for the first time. This, IMHO, is a much better pose. I recently found this figure for sale at Babbages / Game Stop for $15 which is a very good price.
_____________________________________
TOY ISLAND MANUFACTURING COMPANY, LTD. 15" ENDO SKELETON ACTION FIGURE- Very rare. The Toy Island 15" electronic endoskeleton is the T800 model, complete with electronic battle rifle. This appears to be a hard plastic copy of the Horizon vinyl T800 model from years ago, only much better built. The details are very good, and the hydraulics actually work around 20 individual joints and points of articulation. As it is hard plastic instead of vinyl, it can take a lot of kit bashing and it comes pre-assembled! The electronics allow the eyes of the Endo to glow red when you push a button on the chest, and the clear plastic (why?) battle rifle is powered by three small 'watch' style batteries which allows it to make a 'laser' sound when a button on the side of the weapon is pressed. The Toy Island Endoskeleton is a must have for any Terminator fan. The T2:3D experience at Universal Studios in Florida had a bunch of these in 2001, so if you are in that area, check with them. You may find this item being offered in online auctions also.
_____________________________________
TOY ISLAND MANUFACTURING COMPANY, LTD. 4" (approx.) ENDOSKELETON ACTION FIGURE- it's horrible. You can probably find a bunch of them right now at any K B Toys store and probably other similar stores. The current price is about $3 and some change. it has a card stock mounting (like a Star Wars figure) and comic book style artwork. One big notification on the card stock is that it comes with a phased plasma rifle. The bad news is, if it's a phased plasma rifle, it's like nothing you've ever seen before in the movies. Maybe it was something left over from a failed Pacific Rim line of cheap action figures, similar to THE CORPS type. If you want a remodeling experience on the cheap, this might be your best bet. The detail is weak, the price is a little high for what you get, but it has potential for some 1/35th or slightly larger scale type dioramas. You'll have to rework the rifle extensively (or carve a comparable genre one from scratch) but then no one said that modeling was easy. One idea is to pick up a bunch of them, kit bash them into different versions of the Endo models.
_____________________________________
MCFARLANE TOYS TERMINATOR ACTION FIGURES- The MOVIE MANIACS series of figures by McFarlane Toys has long been acknowledged as being far better than good and his latest additions to the series only prove this. The original MM4 series Terminator figures (the T800 and the T1000) were a bitter disappointment to fans; there was a problem with the licensing of Arnold's likeness and the end result figure for the T800 was horrible. The T800 was supposed to ship with two heads, one undamaged Arnold likeness, and the other a damaged likeness. it shipped with only one, and due to licensing problems, the likeness had to be butchered as to be unrecognizable as Arnold. The T800 comes with a bandoleer, break open grenade launcher, removable grenades, and a .45 automatic pistol. The T1000 figure was likewise horrible, cast in a pose which only was seen for a brief instant in the movie (after the grenade shot and right before the T1000 fell into the vat). The second torso included with the T1000 has a gaping hole blown in the head and multiple silver craters to the chest. The figure comes with a 9mm Beretta automatic pistol, a crowbar arm, and a sword arm which interchange.
In the MM5 series, McFarlane returns to the Terminator franchise with another pair of figures which are far above and beyond his previous attempts and make up for his last act of sinning against the genre. The packaging is much nicer and the new T800 Endoskeleton and the new Sarah Connor figure, while having slight quirks to each, are about the best we are going to get so far from McFarlane Toys. I recommend buying lots of the T800 Endos to kit bash, and the Sarah Connor makes a nice super detailing project for figure collectors. The inaccuracies of the scale of the Endo battle rifle are handled under the MODELING section, but aside from that, the latest two entries into the Terminator genre are solid figures. The Endo comes with an out of scale plasma rifle and a gaggle of human skulls (for what reason I don't know). Sarah Connor is loaded to the hilt, with two sets of interchangeable hands, an interchangeable arm, sunglasses, knife, .45 Colt longslide automatic pistol, and her silenced, scoped, and laser sighted M4 5.56mm assault carbine, complete with strap. We were supposed to get an extra head for Sarah, with her wearing her fatigue cap and her hair pulled through the cap in a pony-tail but since this is the most detailed figure yet for the Terminator series from McFarlane, we'll let him slide on that. Get them while you can. The Endo is in good supply, but I have seen (and instantly purchased) only one Sarah Connor figure in the two to three months since the figures were introduced. The promised 1/12 scale T800 "Arnold" figure, with extra accessories (supposedly solving the likeness license problem and giving us a truly incredible figure of Arnold as the guardian T800 as seen in the final half hour of the T2 movie) has again fallen through and we are left with nothing. Perhaps next time. The McFarlane figures are available at most hobby, comic, and toy stores (even electronic game stores such as Electronics Boutique) and retail from $5 (discounted) to $10 (high end price) each. Scale appears to be about 1/9.
_____________________________________
TERMINATOR MODEL Kits
TSUKUDA HOBBY 1/9 SCALE PLASTIC T800 ENDOSKELETON KIT- An excellent model kit of the Endoskeleton, complete with to-scale battle rifle and great box art. This kit was reasonably priced at $20 when it first appeared on the market and was available in two versions, a light gray plastic mold, and a chrome mold. The chrome version is, of course, more rare and will command a higher price, but the regular version can still be found in some hobby shops and in online auctions. Quality is excellent, as is detail. If you aren't into building models and all that hobby entails, then pick up the McFarlane T800 Endo listed above. it is almost identical to the Tsukuda Hobby model kit, with the exception that the Endo battle rifle included with the McFarlane toy is not to scale.
HORIZON VINYL FIGURE MODEL Kits- Produced shortly after the 1991 movie, these 1/12 scale figure kits represented the T1000 (policeman), T800 (Arnold with visible battle damage) and the T800 Endoskeleton (skin-less). While expensive, they were solid figures for the most part, if a bit on the bland side. The T800 Endo was well detailed but somewhat flimsy, requiring massive rebuilding of the hydraulics and cables to be accurate. Open areas of the endoskeleton were covered over in vinyl, leading to a very bad looking model from a purist's perspective. If you are looking for a large size T800 Endoskeleton, then look for the TOY ISLAND Endo action figure detailed above instead. The T1000 came with optional parts which allowed you to construct a figure with a hook hand, a sword arm, or a damaged head. Available by searching the back corners of some hobby shops or through online auctions and clearing houses. MSRP was about $40 each, but this will vary up and down depending on seller and location.
HORIZON 1/35 SCALE FLYING HUNTER KILLER- Part of a pair of promised kits, while the HK Aerial appeared, the HK tank never did. Argonauts produces a rare model of the tank (detailed below) and the HK Aerial unit can still be found in some hobby shops (gathering dust) or on online auctions. My initial thought on the Aerial was "isn't this thing a little bit short?" it appears that the tail section of the model has been shortened by a good three to four inches, producing somewhat of a 'snub' Aerial. The quality of the kit is good overall for a vinyl model, but it has the typical vinyl modeling pains that go with this genre of kit. Available by searching the back corners of some hobby shops or through online auctions and clearing houses. MSRP was about $40 each, but this will vary up and down depending on seller and location. Scale should be noted to be exactly in line with the proposed Horizon HK tank model and the actually produced Argonauts HK tank model detailed below.
ARGONAUTS VINYL / RESIN 1/35 SCALE HUNTER KILLER TANK- The original edition of this kit was produced in vinyl with white metal parts. The re-issue of this kit has been produced in resin for easier assembly. The HK tank is the T2 variant, with dual plasma guns in each sponson turret and is scaled to 1/35 size. it includes two to four 1/35 scale T800 Endoskeletons with battle rifles to round out your diorama. This is a limited production kit, very rare, and very pricey. Expect to pay upwards of $200.00 for this model. If you are interested, go to Monsters In Motion and look under their VEHICLES AND SPACECRAFT section, search in the "H" section.
TERMINATOR COLLECTIBLES
LEGENDS IN 3D TERMINATOR FLYING HK and TERMINATOR HK TANK- These cold cast porcelain figures are not models, but rather display quality pieces of art. They are very fragile, and should be handled with care. Of particular note on areas to look out for are apparently the rear wings of the Aerial unit and the gun barrels of the tank. Legends in 3D did these casts years ago and they are still available. Ebay is a great place to find them, and expect to pay about $40 each. Scale appears to be somewhere between 1/72 and HO. Quality is very good, detail is good for the scale but these are very fragile!! The HK Tank appears to be missing it's 'police lights', though no explanation is given. Wreckage appears to be a Plymouth minivan for the Aerial, and a '67 convertible Mustang for the HK tank (pictured between the front treads).
TERMINATOR COMPUTER AND CONSOLE GAMES
ATARI "TERMINATOR: DAWN OF FATE" GAMING CONSOLE CD-ROM- Another must have for any Terminator fan. The new Terminator game is done by ATARI (brings back some memories) and features three characters; Captain Justin Perry, Catherine Luna, and of course, Kyle Reese (who sports what can only be called an afro now, what is up with the hair!?). You will interact with Colonel John Connor, and face a variety of enemies, from several different types of endoskeletons, to HK recons, to flying Aerials, Terminator Transports (which drop Endos down around you), HK tanks, HK spider tanks (nasty), and a surprise villain, a true cyborg (humans who fight for SKYNET and are altered for combat). The camera angles are sometimes annoying but the action is furious and the background is pure eye-candy overload. With a little bit of artistic license thrown in, ATARI has taken the story we never knew, that of the events leading up to Kyle's jump through time, and put it into a game. Available now at a discount, I've seen it go for $20. Well worth that much. Available for the X-Box and Play Station 2.
BETHESDA SOFTWORKS "TERMINATOR-FUTURE SHOCK" PC GAME- Circa 1995 or so. This was an intense 3D action shooter with a lot of similarities to ATARI's game above, namely spiderbots and teleportation via time-travel technology. With six degrees of freedom, it was an intense shooter though the graphics are somewhat dated now and the engine is considered archaic. You played the role of a human who escaped from a SKYNET prison center and met a Resistance fighter. In the game, you had several methods of play, including missions where you went in on foot, where you drove in with a heavily armed jeep, or you flew in with a captured HK Aerial "fighter" (no logic to that...). The fact that some enemies were placed in areas that there was no way that they could get into logically also hurt the story. The graphics were sometimes eerie, such as finding a crib with a tiny set of bones in it inside a ruined house. The ambient sound also worked well, but a glitch in AI allowed you to slowly walk forward or around until you could see an enemy appear on the horizon, then back up quickly until the enemy once again vanished into the distance / line of sight limit. Next, you shot at the location where the enemy was, stepped forward, and were rewarded with an exploding enemy. it was an AI bug that allowed careful players to beat the system without trying very much. The prison / death camp mission was also interesting, seeing the death camp buildings and the vast trench between them full of bones was something that no other game had approached, let alone the giant blender-like refuse units for disposing of dead humans. Excellent for its time, but very dated now. The sequel was titled "SKYNET" and was a horrible failure, promising multi-player and internet death matches but delivering none of that when it shipped (even though it claimed it was on the CD on the box). Bethesda had a lot to answer for with SKYNET. Interesting to find if you can. Long out of print, but noteworthy.
BETHESDA SOFTWORKS "TERMINATOR 2029" PC GAME- One of the first 3D shooters for the PC, circa 1992. T2029 used a different outlook in that the player was a Resistance soldier who fought against SKYNET using a suit of experimental power armor. You could equip the armor with a variety of plasma guns, grenade launchers, auto-repair units, missile launchers, etc. and do battle against everything from Endos to HK tanks, Aerials, and others. The names of the units were somewhat comical but the action was solid. Missions into underground bases gave a real feel for long ago abandoned military installations even if the action was a bit canned. I played it on a AMD 386DX-40mhz with 32mb of RAM, if that tells you what the engine was built for. Long out of print, but noteworthy for its representation of the Terminator future.

TERMINATOR BOOKS, NOVELS, AND OTHER LITERARY WORKS

"THE TERMINATOR" Paperback movie novelization. BY RANDALL FRAKES & BILL WISHER based on the screenplay by JAMES CAMERON with GALE ANNE HURD (BANTAM BOOKS INC., 1985). You can find this in any used book store and it is well worth the price of purchase as it gives insight and fleshes out the details of the future battle sequences very nicely.
"TERMINATOR 2: JUDGMENT DAY" Paperback movie novelization. BY RANDALL FRAKES based on the screenplay by JAMES CAMERON and WILLIAM WISHER (BANTAM BOOKS INC., 1991). Another must-have for any fan of the movie. The novelization includes some deleted scenes from the movie (such as Rico's confrontation with the T1000 out in the desert) and various insights into the power and workings of the T1000.
TERMINATOR SOUNDTRACKS AND MULTIMEDIA
TERMINATOR SOUNDTRACK and TERMINATOR 2 SOUNDTRACK- Composed by Brad Fiedel and required listening material for any serious Terminator fan, limited availability, I have an original copy on vinyl (record) with the songs from the band that played in the Tech-Noir bar (I think it was a group called "Trianglz"). The preferred format is the definitive edition CD, which has none of the songs, but all of the soundtrack including never before released material. The T2 soundtrack is very good as well. The Terminator soundtrack (CD) can be found on Edel or Edellon records, copyright 1994 by the Edel Company. it has a stock number of "edel 0029022EDL".
The T2 soundtrack was sold under the Varese Sarabande label, and has a stock number of "VSD-5335". Find both via special order from music stores or online auctions.
THE TERMINATOR- VHS and DVD- While not the preferred method for watching these two movies, it was for a long time the only format around. I have both, but hardly ever load them. You can find these deep discounted in local video stores or you can probably still order them online or find them for sale in online auctions.
TERMINATOR 2: JUDGMENT DAY VHS and DVD- The preferred format for viewing these two movies. Special editions may be out soon of TERMINATOR, but already exist for TERMINATOR 2: JUDGMENT DAY. The T2 special edition includes additional scenes, documentary, story boards, and comes in a nice stamped metal case.
_______________________________________________________________________________________________________
HAVE A TERMINATOR PRODUCT? KNOW ABOUT ONE THAT I DON'T KNOW ABOUT? EMAIL ME!