Chip D. Williams

Presents
More Japanese POTA
Movie Poster Art
________________________________
You'll notice in this poster that the "Icarus" is actually a photo of Taylor's ship taken from the first movie and superimposed. Pay attention to this image, it will be used again.
____________________________________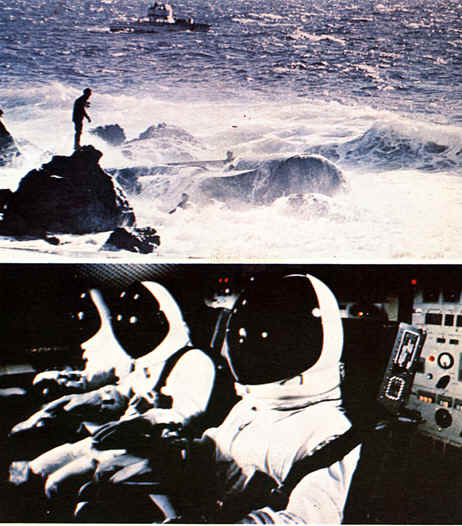 Interesting! I do not believe that we have ever seen the lower image before. It could be the three ape-o-nauts just as it could be Alan Virdon, Burke, and Jones! This shot proves beyond all doubts that the spacecraft that returns in the third movie is not the same one that returns to Earth in the first movie.
Could the burning planet in the background be the future Earth after the AO bomb was detonated? Possibly.
_______________________________
A final poster for the original movie. You'll notice the rocket flare from behind the Icarus, as well as the fact that it does not have the forward escape hatch in place!! Just two glaring errors apparent as the "Icarus" is set against a background suggesting it is flying among the galaxies. In fact, it looks like this movie poster may have formed the basis for the first poster shown above.

Excellent submissions, Chip! Thanks from all the visitors to this site and the fans of this spacecraft!
_______________________________________________________
Questions or comments? Email ANSANAUT