CUSTOM RESIN ICARUS DIORAMA
courtesy of Uncle Odie's Collectibles and the Robert Vanderpool Collection
"This item is a resin Icarus kit that has been assembled, painted and customized to be sinking. It's mounted on a 12"x12"x1/4" piece of plexiglass. The water surface is created with epoxy. There is a peek hole in the bottom so you can see the interior detail of the ship. The ship measures 13" long and the tip of the nose cone is 6" from the surface." - Robert Vanderpool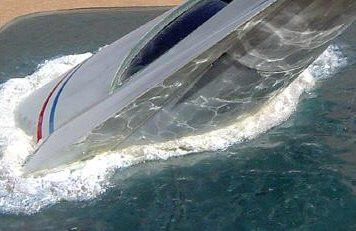 The paint work here imitating the water reflecting off the hull is simply amazing.
The interior is also very well done. This looks almost like a cut scene.
Here is looking up into the cockpit from
the bottom of the diorama base.
Robert's site features information on a variety of sci-fi subjects but concentrates on the Irwin Allen TV series ("Lost in Space", "Voyage to the Bottom of the Sea", etc.) most extensively. I want to thank Robert for allowing me to share the images of this model with the fans and to also display some POTA images from his site. Stop by if you get the chance, especially if you're a big Irwin Allen fan!
_______________________________________________________
Questions or comments? Email ANSANAUT