VIN SCIMONE'S 3D RENDERED CGI
ICARUS COMMAND MODULE

_______________________________________________________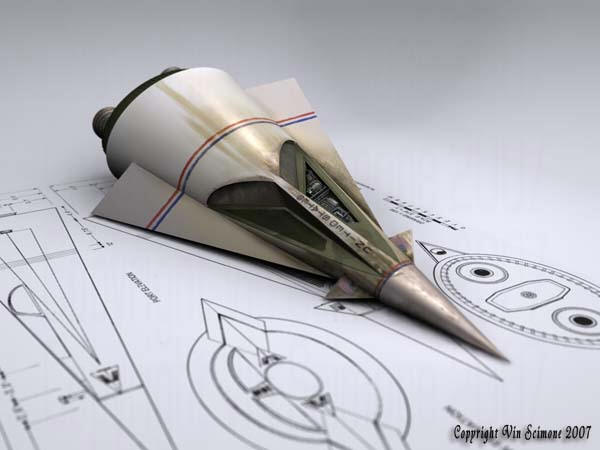 I particularly like how he chose Jim Key's blueprints as the "background" for this work.
It lends the illusion of reality.
Hi there,

I wrote you a couple of weeks ago after stumbling across your site, and since then I decided to build a 3D version of my Icarus impressions. I'm finishing up the main Command Module and am about to begin work on Brent's second stage with the landing gear. I've tried my best to maintain the look and feel of the actual craft in the original movie, even creating the dirt streaks from sampling a lot of the great source material you have linked to your site.

I love the concept of this being the peak of a large staged rocket, so I've built it as if it were (loved the Arrow IV concept). I'd love to share this with you and the handful of fans out there if your site is still active.

I'm enclosing a small sample. Let me know if you're interest and I'll feed you the full (higher resolution) set.

Best,

Vin
_____________________
To which I replied:
Brother,

That is awesome! Yes, the site is still active but there is a finite amount of information on this ship so the site doesn't see very much updating though it gets far more traffic than I ever anticipated. When I started the site almost ten years ago, I did it because I loved the ship that I remembered from my youth and I felt (at that time) that perhaps only a handful of people might even care (or visit) a site about this ship.

Boy! Was I WRONG! Currently, there exists only two sites about this ship; mine and Phil Broad's site (found at http://www.cloudster.com). His site is somewhat speculative but specializes more in the actual facts of the ship as a prop including behind the scenes shots of the ship in the movie, etc. My site is more of displaying the ship and speculating its many variants as well as its missions. The two sites compliment each other without competing, I think and that's nice.

Most of the updates to my site come from fans like you who visit the site and are moved to add their own speculations, art or models to the site. I would be honored to give you some space on the site and would love to see more of your work. Send me any / all information that you can and I'll get you in on the next update (which I hope is this weekend). I have another model to display and some pictures that most people haven't seen before.

Is this model of yours scratch built or modified from one of the available kits. It looks a little like the Monsters in Motion offering and if it is not, I hope that you take that as a compliment to your talent that what you have produced looks of sellable quality.

I'm interested, let's see some more and don't be shy with the facts or bragging about what you have done. Nothing worse than to have a bunch of pictures of some fan made Icarus and then have the artist give me something like "I made this years ago." and that's it! Fans and myself in particular would like to know your thoughts, what made you want to make this kit, how you felt, what drove you and what your impressions were. You don't have to go Oprah on us but give us an insight into how long it took you to build this, what kits or materials you used and ... you know, talk yourself and your project up. Don't be shy. I've got plenty of room and the stage is yours.

-Christopher

__________________
Hi Chris!

So glad to get a reply from you! Your site is loads of fun and I keep discovering new corners. I mean, you have gone so far as to include acceleration / deceleration tables... what more can I say :-)

Every year for some unknown reason, I get POTA Fever. Usually it is cured by simply pulling out the VHS tapes (and later the DVDs) and watching for a few hours until all the POTA pathogens go into remission. This year the fever has proven to be a bit more stubborn.

This is the first year I decided to search out the internet for other fans, specifically of the ANSA astronauts and their ship. I always loved that opening scene.. right down to the cheesy "going, going, going, gone" from Landon. I couldn't believe it when I found your site, and then later Phil Broads. What a great collection of source material and information. So of course, I decided to build my own version.

You have paid me the highest compliment by asking what kit I built this from. The truth is, this is not a physical model at all. I built the model in 3D. The picture I showed you is a CGI rendering that I created using 3D Studio Max. I hand painted the textures in Photoshop, sampling some of Larry Evan's photographs and screen captures from the movie to accurately recreate the dirt and reentry scarring. The escape hatch is removable, as is the left side access panel. I also modeled the atmospheric periscope to move up and down. And then there is the aft section and engines......I'll give you all the fun details when I send you the rest of my material (hopefully later this week). I've attached a wireframe view of my model (in classic 1970's monochrome green of course)....

Talk to you soon!

Best,

Vin
wireframe of Vin's Icarus
A YouTube video of Vin's work in motion can be seen here.
____________________
Vin says he'll send more but I didn't want to wait on posting this teaser picture. I'm sure I'm not the only one who is eagerly awaiting the rest of this project and his other ANSA inspired projects as well. I'll post them when I have them.
_______________________________________________________
Questions or comments? Email ANSANAUT