Randy Cooper's Pro-Built

" ICARUS II "

Full scratch build of the BTPOTA version
___________________________
Randy Cooper, for those who don't know him, is a professional scale model builder with more than 20 years experience. He has worked on the FX and miniatures of films like Stargate, Starship Troopers, No Way Back, Clifford, Muppets Wizard of Oz, AI and Bicentennial Man as well as building his own custom designs. Dave Ballard gave me the heads up on Randy's "Icarus II" diorama and I was quick to email Mr. Cooper to ask his permission in showing his work on my website.
Here is what he has to say about his design:
"I built it when I was working on Starship Troopers. I built it in 2 weeks. It's easy when you're working in one of the best model shops around. Unfortunately, Thunderstone Shop didn't last long. I decided to do the BTPOTA version because there were so many water versions done already. Besides, it makes for a cooler display on the ground. I also decided to change the damaged area because the whole ""Lost in Space" Jupiter 2 landing gear wrapped in corrugated metal" just didn't do it for me." - Randy Cooper

Randy also told me that the model is 2 feet long and a full scratch build. Unlike some other models this size that are conversions, Randy built his Icarus from scratch rather than using one of the pre-existing kits and having to modify it. You can find more of Randy Cooper's amazing talent and designs on his website: http://randycoopermodels.com. You can also buy some of his designs as well and his kits are among the best in the aftermarket.
I think that Randy has thrown down the gauntlet for modeling Brent and Skipper's ship and like he says, everyone (with the exception of Randy and Shane) seems to build the splash down version. I don't know if that is because it's just the assumed template or because building the crashed version offers much more of a challenge. In any case, Randy Cooper has definitely stepped forward and raised the bar to shoot for in regards to modeling Brent and Skipper's fate stricken spacecraft from the second movie.
Model is two feet long. These smaller pictures give you a feeling for the size of the diorama.
Plaque at the front left of the ship (looking like so much more wreckage) reads:

"BENEATH THE PLANET OF THE APES - ICARUS II"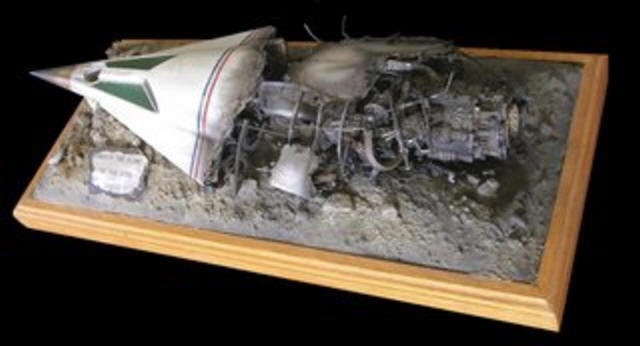 Note the reworked / reimagined tail section of this version. This is not a "tail lander" but
rather a new version we have never seen before. Interesting.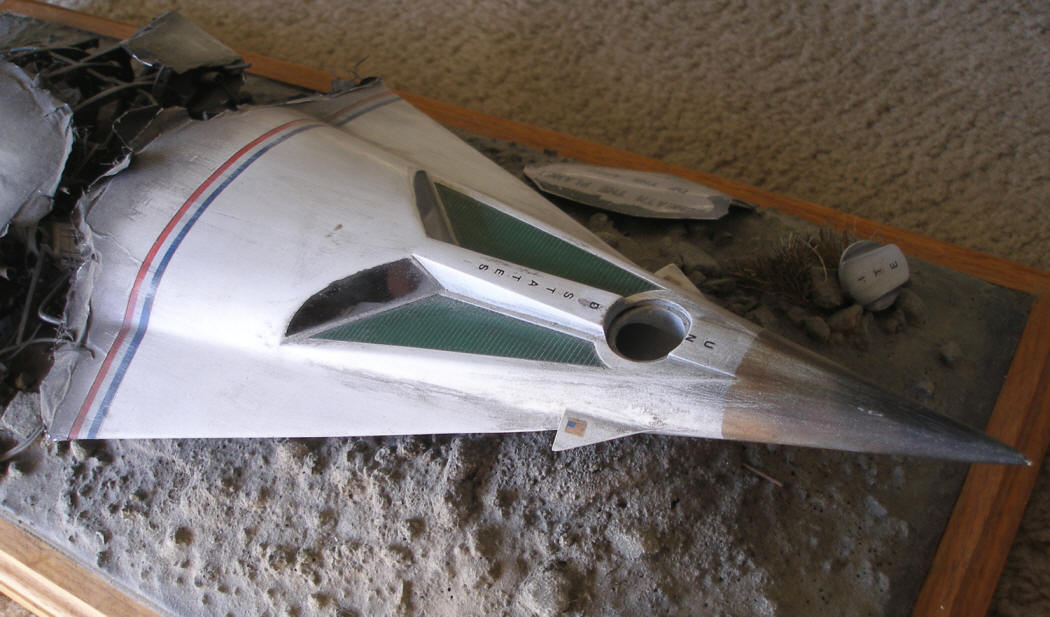 Looking at the "Icarus II" from the rear of the diorama.
Description / title plate is in the background to the right of the ejected escape hatch plug.
Interior view shot seen through the damage showing the two suspended animation bunks.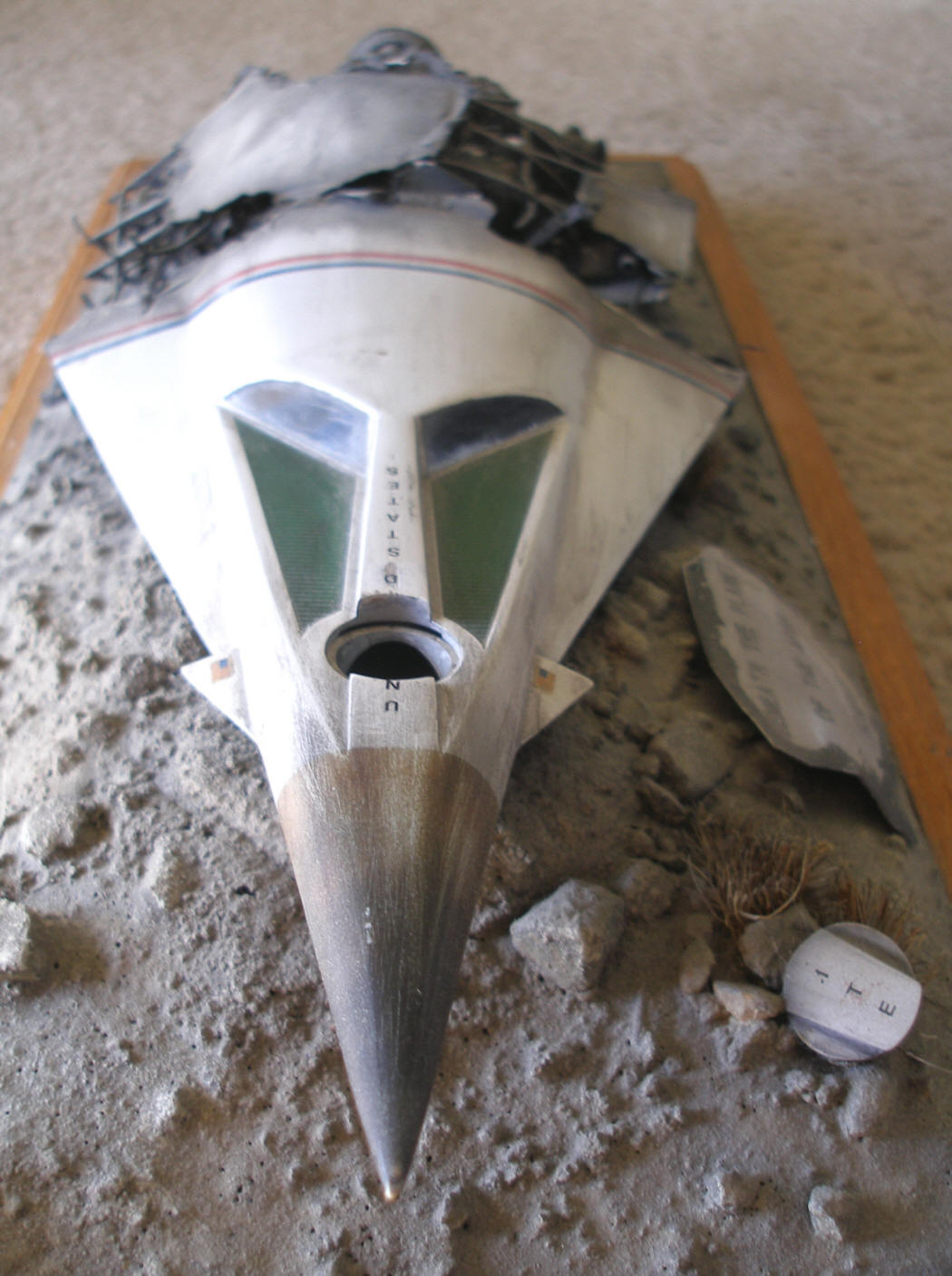 Bow on.
Stern shot showing the incredible detail that Randy put into the alternatively designed engine and its
supporting frame work, bracing and necessary equipment. Look at the amount of weathering!
No one is going to be flying this spacecraft back home ever again.
Randy has also suggested, with his design, a unique new shape for the Icarus.
Follow the structural supports as they flow out in the classic triangle shape then flow back to conform to the engine. Unique and logical and probably worth a sketch out in undamaged form as well as further modeling of that aspect.
An oblique shot showing some of the damage from slightly above the model as well
as a peek into the damaged interior of the "Icarus II."
A look into the dirty, flame licked cockpit interior showing that this vessel is a four seater.

Note that the escape hatch is open leading to the forward escape tunnel from which Brent emerged in the second movie.

Ceiling design is also very well done in regards to detail.
Thanks, Randy, for building this model and for sharing your talent and work with the fans of this spacecraft.
_______________________________________________________
Questions or comments? Email ANSANAUT