JAN RUKR'S SECOND PAPER MODEL ICARUS
_________________________________________________________
The FULL Icarus vehicle from Jan's original concept art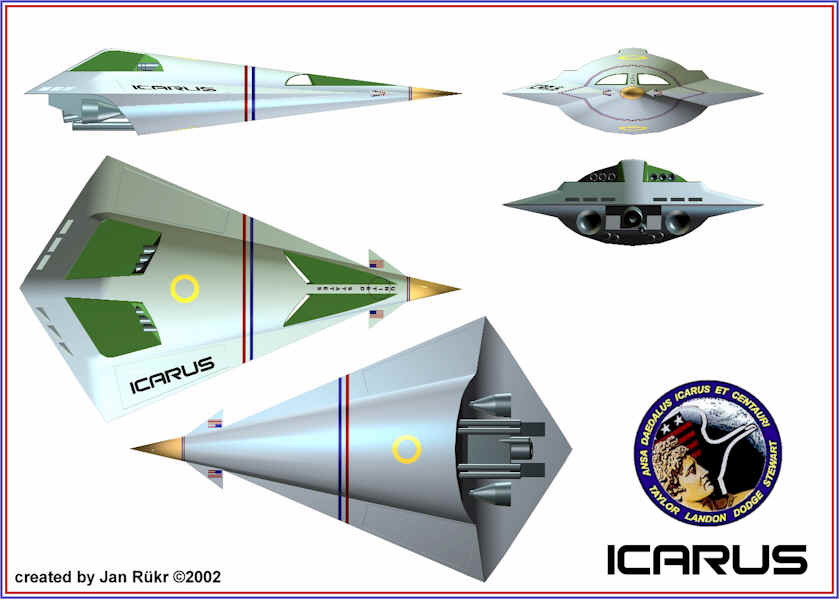 Jan Rukr submitted the following pictures of his new Icarus paper model, this time the full vehicle as seen in his concept art. This model can be further modified by the skilled modeler to include opening air brakes and even possibly a removeable command section. The beauty of a paper model is the size scaleability. Print it out on A4 or letter (8"x11") paper for a standard version, or print it out larger for a bigger model.
Yes this is a paper model! It is about ten inches long when assembled.
Rear detail. Like I said, a sharp modeler could make the air brakes operative
(shown on each side of the hull) as well as the command module separable.
Engine detail, each nozzle consists of two or three pieces.
Lower engine detail and showing that this is a three dimensional model.
Closeup of rear engine, lower hull detail.
Jan promises the "crashed" Icarus model soon, whether this is the full lander version of the Icarus, or the wrecked Icarus I'm not sure. I've sent my humble request to him to do both, I'd really like to see what Jan can come up with in regards to concept art for the reentry and touch-down sequence from the second movie.
_______________________________________________________
Questions or comments? Email ANSANAUT