JOSE RAMONE DIEZ RUIZ'S
1/16 SCALE HAND-BUILT ICARUS
______________________________________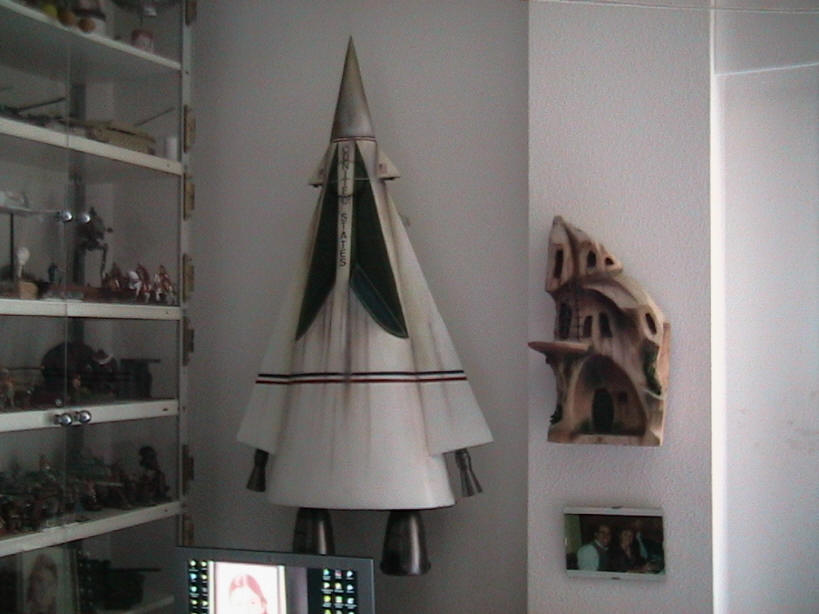 The completed 1/16 scale Icarus hanging on the wall. That's huge!
Notice the "Ape House" model to the right.
Frontal angle.
Top view down. Notice the recessed atmosphere tester above the "U" in "United States."
Looking over the rear towards the front canards and escape hatch.
A rather long shot showing the detail around the windows and the escape hatch.
You can also see the recessed atmosphere tester better in this picture.
The engine nozzles on this model are also much larger than seen on any previous model.
Close up shot of the forward canards, retro jets, escape hatch
and atmosphere tester as well as the "deck ribbing."
I sent Sr. Diez an email asking him if I could display his work on my website and if he would send me any other pictures he might have of his model.
Sr. Diez replied:
"
Of course This will be a
honor
for me. I know and enjoy your page since a long time ago.
My Icarus spaceship is a 1:16 scale model, 91cm long, 105 cm with the boosters and 56 cm wide. Itís not intended to be an accurate model and I d
id
it when I d
id
nít have internet access so the only reference was the video tape.

I d
id
the Icarus myself, and it is
cereal
box cardboard. I try
to

maintain my hobby cost
as
low
as possible
.
It is funny, I d
id
blueprints, saw the film frame by frame, guess
ed at the
dimensions, etc, and when the work was in the middle, Sci-Fi & Fantasy Models
had an article (
"The Flight of the Icarus", by Jim Keys- ANSANAUT)
with a
n
extensive article, blueprints, etc
. These
things happen. When I d
id
the Blade Runner Spinner
, a similar incident happened as well."
Thank you, Sr. Diez, for your work and for allowing me to share your talent with the other fans of this spacecraft. Truly a very nice, hand built model! You may find Jose's homepage here. He has also hand built an excellent "Spinner" police car from the Ridley Scott cyberpunk masterpiece "Blade Runner."
_______________________________________________________
Questions or comments? Email ANSANAUT