Bill King's Icarus
This is the ANSA Spacecraft Icarus from the original Planet of the Apes movies. It's a pretty much straight out of the bag model, a Larson Designs six inch, solid resin, two piece kit produced back in 2000. I sanded the rear cap details off, then added the main engine exhaust nozzles and a small access hatch. Then I added the secondary thruster exhaust nozzles in the rear of the winglets. The overall paint scheme is based on the film's version, but I added a few changes here and there to give the model a little more contrast.
I'm currently working on a VTOL version using the same large Larson Designs model, and am planning a "Tail-lander" version using the newer 3 inch Icarus from Larson Designs.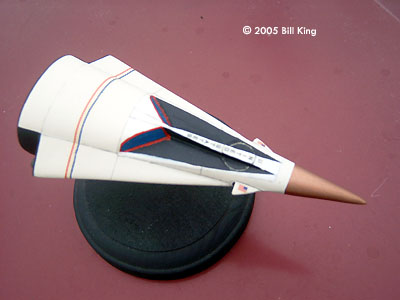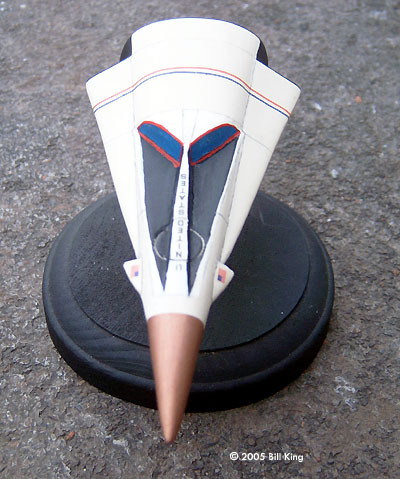 Bill and I talked via email about his kit. I was unaware that Larson Designs had a large scale Icarus, only that they produced the small, 3" Icarus. Bill says that at one time LD did produce this larger kit but does not anymore.
Thank you for sharing this model with us, Bill.
_______________________________________________________
Questions or comments? Email ANSANAUT